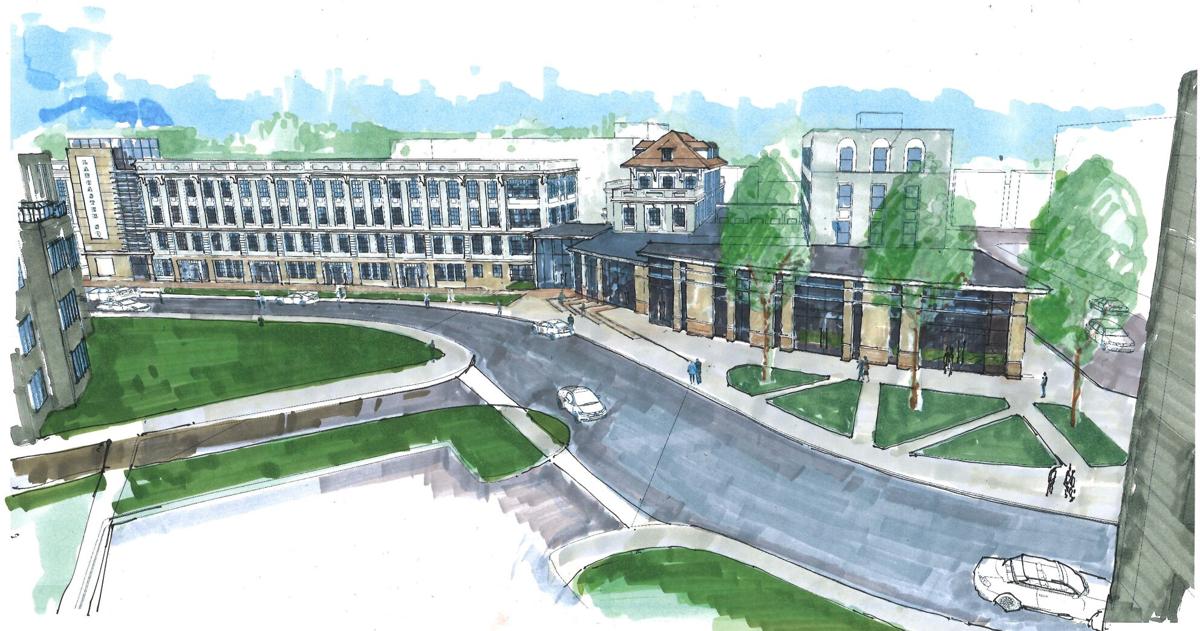 The owner of the former Millard Fillmore Gates Circle Hospital complex is finally moving forward with one of the biggest pieces of the campus redevelopment – converting some of the remaining hospital buildings into a mix of affordable and market-rate apartments.
TM Montante Development – which has been working to convert the campus in phases for nearly a decade – is teaming up with the nonprofit Belmont Housing for Western New York on a $40 million plan to revive the remaining historic buildings of the hospital.
The partners are dividing up the buildings and responsibility, with Belmont taking the three northern buildings for affordable housing while TM Montante tackles the southern portion for traditional apartments along with retail shops and restaurants.
"We love these buildings, so fully restoring the buildings and bringing them back to life is a huge priority for us," said TM Montante President Christian Campos.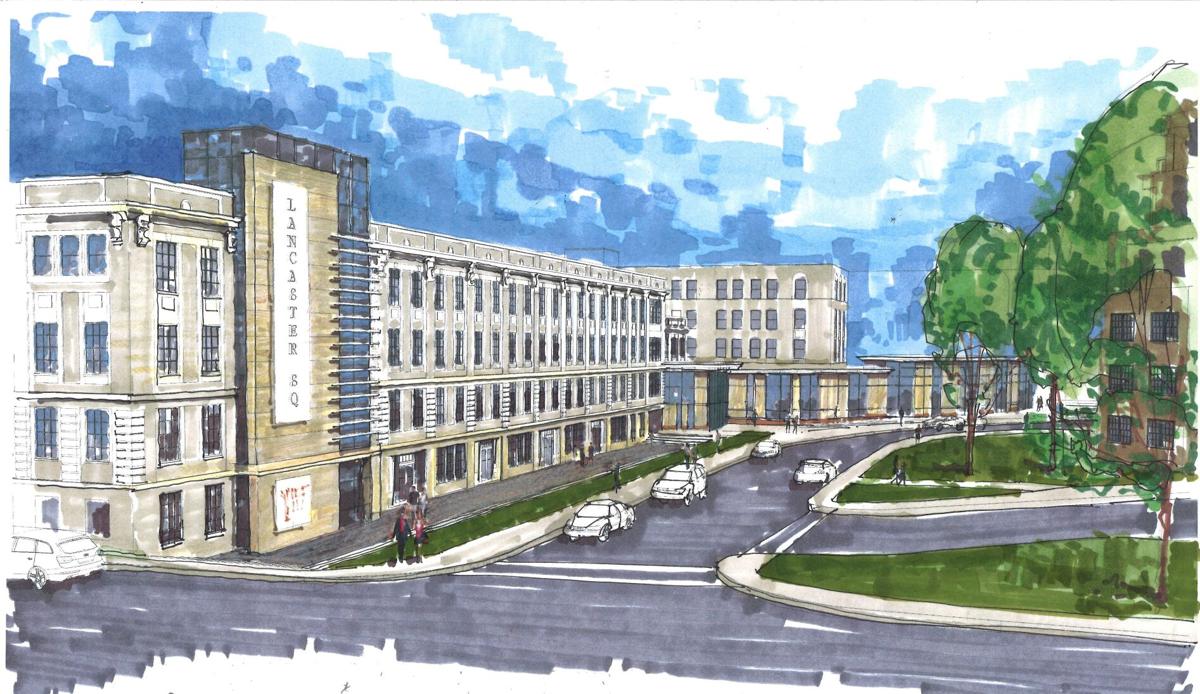 Those buildings – which are separate structures but connected internally – have sat empty within the tony neighborhood since Kaleida Health closed the facility in 2012. They're behind the six-story Canterbury Woods senior housing community that was built by Episcopal Church Home & Affiliates on the front portion of the site along the circle itself.
But the empty hulks are visible from surrounding streets, including Delaware, Lancaster, Linwood and Lafayette avenues. Montante completed the demolition of the main hospital tower years ago, as well as a costly environmental remediation and clearing of the entire site under the state Brownfield Cleanup Program. It also sold the land to Canterbury Woods and a separate parcel to People Inc. for its own senior housing project on Linwood Avenue.
Yet the lack of movement in recent years on the core hospital site has irritated neighbors, especially residents of Canterbury Woods – who expected faster progress, and are tired of looking at derelict and deteriorating buildings and the vacant land surrounding them.
"People want to see the project move forward faster rather than slower," Campos acknowledged. "This is something that is super important to the community. It's going to generate a lot of excitement."
The two projects still require multiple approvals and a complex arrangement of funding – particularly for the Belmont portion – so the work is not expected to be fully completed until 2024.
Even so, the agreement and announcement represents a major advancement for TM Montante, which is spending more than $150 million to transform the campus into a mixed-use community called Lancaster Square.
The developer has been particularly challenged by financing, after the state determined that the project would not qualify for historic tax credits because the hospital buildings had been altered so much in the past.
It tried to negotiate an unusual tax abatement plan with the city, which would have designated the entire site as an "urban development action area" under a section of state law targeting blighted neighborhoods for redevelopment. But a state judge threw that proposal out after project critics filed a lawsuit. An appeal is still pending.
Montante also brought in a financial partner in Rochester developer Robert C. Morgan, who took a 50% stake in the project. But that was thrown into disarray when Morgan was indicted on federal bank and insurance fraud charges over an alleged commercial mortgage scheme to deceive banks. That made him – and any project in which he was involved – toxic for lenders, so Montante had to negotiate for over two years to buy him out.
That transaction was completed less than three months ago, freeing up Montante to restart efforts to move the project forward.
"That was a very, very important development to get that deal done," Campos said. "That was the primary challenge that we've been facing. Now that that deal is done, we're going to start seeing a number of projects moving forward on that site, much quicker than they were."
Belmont, one of the region's most active providers and managers of affordable housing, will acquire and redevelop all three northern buildings, which were constructed over time during the evolution of the hospital since the early 1900s. The interconnected buildings – with party walls and tunnels between them – total about 77,000 square feet of space.
Tentative plans by CJS Architects call for 70 affordable apartments. The apartments will be aimed at households earning between 50% and 80% of the area median income, giving the project a broader range of affordability than a traditional low-income housing project of 50% to 60%.
"We really think this can be a mixed-income integration project," said Brad Packard, director of housing development for Belmont, which will own and manage it.
The mix will consist mostly of one- and two-bedroom units, but with about a half-dozen three-bedroom units as well. That may change slightly, as "there's some volatility and movement in the construction market right now," but there's not a lot of leeway for larger apartments, Packard explained.
"That's really driven by the existing column space and structure of these buildings," he said. "It's a little bit more difficult to build an offering of three-bedroom units."
Belmont's $25 million project will be financed with $13.5 million in equity from 9% low-income historic tax credits issued through New York State Homes and Community Renewal, along with $2 million in federal HOME funds that the nonprofit has asked the city to allocate. Another $7.3 million will come from low-interest loans through Homes and Community Renewal, plus $1.8 million in brownfield tax credits from the original cleanup of the campus.
Indeed, that earlier cleanup – along with the surrounding neighborhood – was part of the attraction for Belmont. "This is a site that has already undergone predevelopment work and it's positioned well to advance relatively quickly," said Packard, who's been working with Montante on the plans for several months.
Belmont's involvement in the affordable housing portion helped with Montante's financing problem.
"We didn't have a clear path forward that was financially viable," Campos said. "This mixed-income approach resulted in a viable financial model that allows us to move this project forward."
Packard said the nonprofit expects to apply for the housing tax credits by early March, with hopes of winning an award by the third or fourth quarter, and then starting 15 months of construction in the first or second quarter of 2023.
To the south, Montante will spend $15 million to redevelop the southern buildings, which will total about 70,000 square feet of space. That includes constructing a one-story, 8,000-square-foot addition along Lancaster Avenue Extension.
Plans for the mixed-use project call for 50 apartments in the existing buildings, plus restaurant, food-service or retail tenants in that new space, to "bring vibrancy to the center of the site," Campos said.
The number of units could change, and he said they do not yet know the rents or apartment types. But he said the goal would be similar to the redevelopment of a former office building down the street at 1275 Delaware, where Montante put in "high-quality" apartments and offices. "We just feel it's going to be a wonderful space for restaurants and neighborhood retail," he said.
The project will be financed with developer equity, bank loans and brownfield tax credits. Campos said Montante hopes to start moving forward with municipal approvals by early 2022, with construction beginning by the third quarter of next year and completion within a year.
And since historic tax credits are not involved, the developers do not have to comply with federal and state standards for the work, which gives them some flexibility on the inside. But they still want to try.
"Our intent is to sort of enhance and preserve and restore the initial historic grandeur of these buildings," Packard said.
"The intent is for these buildings to be fully restored to bring back all of the historic beauty. They're really stunning buildings," Campos said.
Montante has already completed work on 1275 Delaware, and also purchased the adjacent parking ramp from the city, which it is now renovating.
Additionally, it still has a large parcel on the south side of the new Lancaster Avenue Extension, where it's already working on plans for a new mixed-use building. It had also won approval previously for a new residential building at 1299 Delaware, immediately adjacent to Canterbury Woods, but has not begun that work.
Campos said he wasn't sure yet what would come first or when, but "we do anticipate moving additional projects forward."
"We've had a huge amount of momentum… and we think that momentum is going to continue to build with additional projects as well," he said. "There's been a lot of support for the overall project."
Published by The Buffalo News
Related Posts