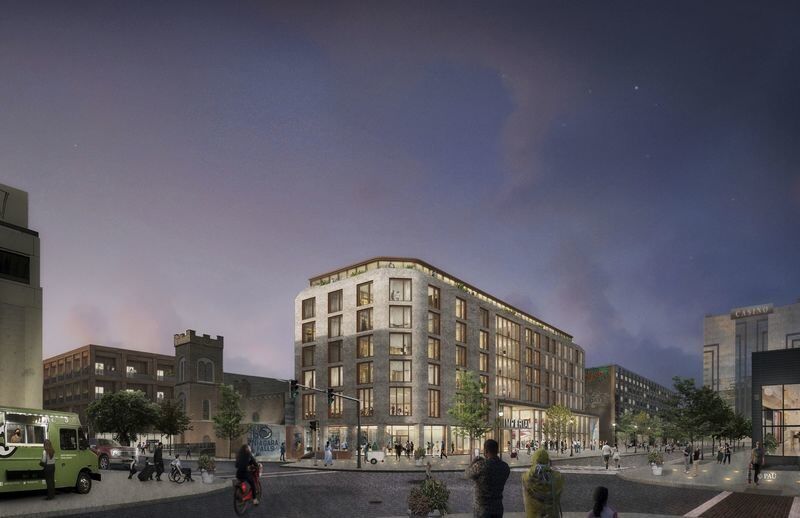 Since "urban renewal" and the collapse of industry decades ago, a large portion of downtown Niagara Falls has felt trapped in a time warp.
There is so much going on now, however, that drastic change is the only way to describe it.
Consider the Downtown Niagara Falls Development Strategy unveiled by USA Niagara Development Corp. on Thursday. Five separate development-ready parcels owned by the Empire State Development subsidiary are ready for consideration by developers as outlined in a Zoom press conference Thursday.
Meanwhile, last summer, three projects including $100 million of private development were delayed when COVID-19 caused a loss of funding.
Early next week, a development strategy for the former Rainbow Mall will be laid out with a more street-friendly, inviting design.
In March 2019, USA Niagara purchased 32 parcels of land from Anderson for $14 million. The parcels, once referred to collectively as the "Anderson properties", have now been divided into clusters of developmental land, with one of the clusters already being marketed by TM Montante Development.
Not counting the Rainbow Mall, the five parcels to be redeveloped could bring up to $300 million total in investment.
Included are:
• Park View: Second Street between Walnut and Main streets. The area adjacent to the newly completed natural area. Preliminary strategy: independent nostalgia hotel, as walk up building and retail dining.
• Gorge Gateway: At the site of the former Travel Lodge, Second and Main. Preliminary strategy: A state park lodge, large event space or private lodge with event space and park access
• The Canal: Bordered by Second, Main and Niagara. Named for the former hydraulic canal, a large parcel. Four separate buildings, strategies include a 140- to 160-room hotel; a multi-family walkup building with ground floor retail; A mixed-use building with a 140- to 160-room hotel; another multifamily with ground floor retail, community space and residential town homes
• Old Falls: First and Old Falls, 1st Street, 1st and Niagara, 3rd and Niagara. A 160- to 180-room upscale hotel with multi-purpose event space; multi-family residential with retail or a 330-room conference hotel and 90-room boutique hotel
• Upper Rapids: 101 and 305 Buffalo Ave. A 40- to 50-room heritage building with event space and a brewery and a 30- to 40-room hotel with ground floor amenities.
An early item to be built will be an observation deck near the upper rapids, taking advantage of the natural view to give treetop access.
"It is exciting," Anthony Vilardo, president of USA Niagara, said. "As I said, this is a lot of important detail. In the end you don't want to rely on shooting an arrow like they did in the past with urban renewal. Many buildings are gone. We need to get this right."
Mayor Robert Restaino is optimistic but cautious.
"In the old days, there was plan after plan that laid on the drawing board and never got lifted off," he said.
The strategy unveiled Thursday also calls for a Heritage Path, a mile-and-a-half walking path celebrating the city's history including the Underground Railroad, Niagara Movement, and its electric history. The struggle, Vilardo said, is remaining patient.
"I could say we'll have everything done in two years, but I'd be lying," Vilardo said. "This is a long-term pragmatic approach."
The core to the new plan is the restoration of what was once Second Street which runs as a spine for much of the development.
Vilardo said the next step will be robust outreach to developers.
"We don't want to be prescriptive on what the private sector can do," Vilardo said.
He also said that between the TReC center and multiple new hotels, "Niagara Falls has never looked better in my lifetime."
Published by Niagara Gazette
Related Posts