Not content with having three housing and mixed-use projects already underway in Buffalo, Cedarland Development is ready to undertake its first large industrial venture, with plans for a complex in Black Rock that could cost as much as $60 million.
The real estate firm owned and led by Dr. Fadi Dagher and his son, Kevin, is proposing to create a major manufacturing or warehouse building on Rano Street, with potentially up to 250,000 square feet of space for lease. A separate office building on site would contain at least 8,500 square feet.
The Rano Park project would be designed to address a significant gap in available industrial space in the area, which is posing a challenge for both businesses seeking to grow and economic development leaders trying to lure new employers. Cedarland officials said they believe the new development could fill a void in the community and bring hundreds of jobs to Buffalo once a tenant is secured.
"Our goal is to bring a large-scale, light manufacturing business that's growing in Buffalo or new to the city," said Kevin Dagher, the firm's vice president. "That's really our goal, to bring jobs and innovative new businesses to the community."
But instead of being constructed as a "spec" project in anticipation of demand, the new Class A facility would not go up until Cedarland has one or more tenants lined up, and it would be built to fit specific needs. That means it won't add to the "move-in-ready" inventory of space for immediate needs, although Cedarland plans to be prepared to move fast.
"Our goal is to market this property now, find the right user, and build it around what they need," Dagher said. "The design and layout is going to stay consistent, but the size will depend on the ultimate user, and the project cost depends on the size and the use as well."
Dagher said the firm has not yet had any inquiries, but plans to meet shortly with officials from Invest Buffalo Niagara and the Buffalo Niagara Partnership, as part of efforts to market the project and ensure it meets regional needs. "Our goal is to have somebody lined up this year and start construction next year," he said.
If that doesn't work, though, Cedarland will look at other potential options for the site, such as mixed-use or residential development.
"We're committed to doing something there," Kevin Dagher said. "It's a really good location."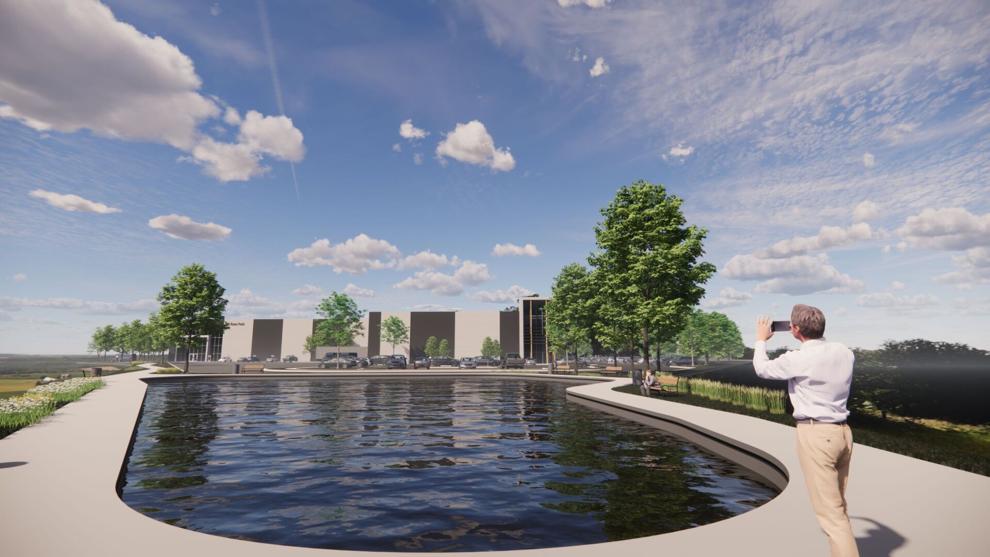 Cedarland on Wednesday bought the 8.5-acre property at 25 Rano St., paying $1.06 million to former owner Jim Jerge's Rano Development. Jerge had acquired the manufacturing property for just $20,000 in March 2015 from Marlette Plating Co., a defunct century-old metal finisher that used to do nickel and chrome plating on bumpers and exhaust pipes for large trucks and carmakers like Pierce-Arrow and Thomas Flyer. It closed in 2008.
The property had previously been used as a planing mill, lumber yard, and radiator manufacturer, according to the state Department of Environmental Conservation.
Jerge demolished the 312,760-square-foot building that remained, and enrolled in the state's Brownfield Cleanup Program. The U.S. Environmental Protection Agency had already cleaned the site a decade ago, removing 91,000 gallons of contaminated water, 3,100 drums of waste and 280 cubic yards of contaminated soil and debris. However, some debris still remains, along with the concrete slabs and foundation of the previous structure.
Meanwhile, Cedarland saw the strong need for more industrial capacity – just 1.5% of the current industrial space in the region is available for lease – and began seeking out potential sites for such a project. It had to beat out at least two other developers for the Rano property.
"We were always looking for large parcels of land in the city of Buffalo, and when we saw it, we were really interested," Kevin Dagher said. "It's hard to find eight-and-a-half-acre sites in the city of Buffalo, in nice up-and-coming areas. It's a fresh slate."
The proposed project would include 127 parking spaces, a separate truck entrance, seven loading docks, and a design that features natural light. Besides the buildings, plans for the property would also incorporate a quarter-mile walking loop with a water feature for tenants, as well as electric-vehicle charging stations, new sidewalks, and green spaces along both Tonawanda and Rano streets.
The project – which would be designed to comply with the Green Code – will seek to achieve the state's sustainable energy goals as a net-zero site, with a separate but onsite green-energy production facility to produce all of its power needs.
"We're upgrading the energy capabilities of the community," Dagher said. "New York state has an ambitious climate goal, by 2040, to reduce reliance on fossil fuels, so we really want to help with that, and this project is going to be a cool concept that hasn't been done around here."
Meanwhile, Cedarland has four other properties under contract for acquisition, all in Allentown and the Delaware District, and continues work on three other projects:
Michigan Place, a 38-unit, $9.5 million apartment building at the corner of Michigan Avenue and Best Street. Contractors are now working on the second floor, with framing, and the project is expected to be completed in February 2023.
A 16 unit apartment building at 507 Niagara St., valued at $2.2 million. Workers are finishing interior framing and painting the exterior, with completion anticipated by November or December.
A $10 million mixed-use project at 950 Broadway, with 28 affordable housing units, first-floor retail space, an urban farm in the basement, and a free early childhood center run by Community Action Organization. The project still needs city approval, but Cedarland hopes to start construction in October. "We're doing a lot of unique things. it's going to be a huge project," Kevin Dagher said. "It's a really cool concept."
Related Posts