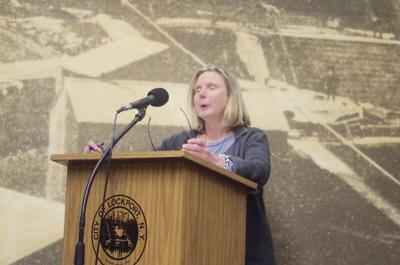 3rd Ward Alderman Mark Devine's resolution to suspend the reassessment of the property value in the City of Lockport met defeat at the Wednesday night Common Council's meeting at City Hall. Common Council President Paul Beakman seconded the motion, leaving the remaining four-votes on the Common Council to vote "nay" on the measure.
Devine and Beakman asked that the reassessment of the entire city, completed by GAR Associates and costing the city $400,000, to not be implemented until April 1, 2023.
During the recess for agenda-related issues, residents of the City came in front of the board to state their opinions on the reassessment.
Jean Kiene, an activist who pushed for the remediation of Eighteen Mile Creek, was one of those speakers. She said she was shocked by the amount assessments had gone up in Lowertown and that the housing boom that drove up the assessments was faulty data on which to base the project. She blamed past administrations and said that going forward, an assessment update should be done every year.
"When this resolution comes up tonight, I hope you give some consideration to the fact that we do need this, we do need a revaluation, and it should've been done every year!" Kiene said.
Tracy Farrell, city assessor, said that if a suspension was upheld, it would cost the city another $200,000 to do it next year.
"It is up to this council to use our money wisely," Farrell said. "We would also go down to 55% as an equalization rate which would also raise our taxes considerably. We remember that a third of the people who are up, those are the same people who were being under-assessed for almost 10-years and the rest of us have been paying their portion."
Devine said, after the meeting, that despite the death of his resolution, he would continue to try to help the homeowners.
"These assessments are not set in stone," Devine said to press. "We have the two (challenges). One is the informal process to aggrieve it and the formal process. I've been helping people with that, hopefully getting some of these things evened out for people."
Paul Beakman also spoke after the meeting to press another "fix", the yearly assessment proposal which takes away the sting of what he called, "the sticker price" of a high assessment after no adjustment for 10-years which is occurring now.
"I'm going to push for that to happen," Beakman said.
Published by The Lockport Journal
Related Posts