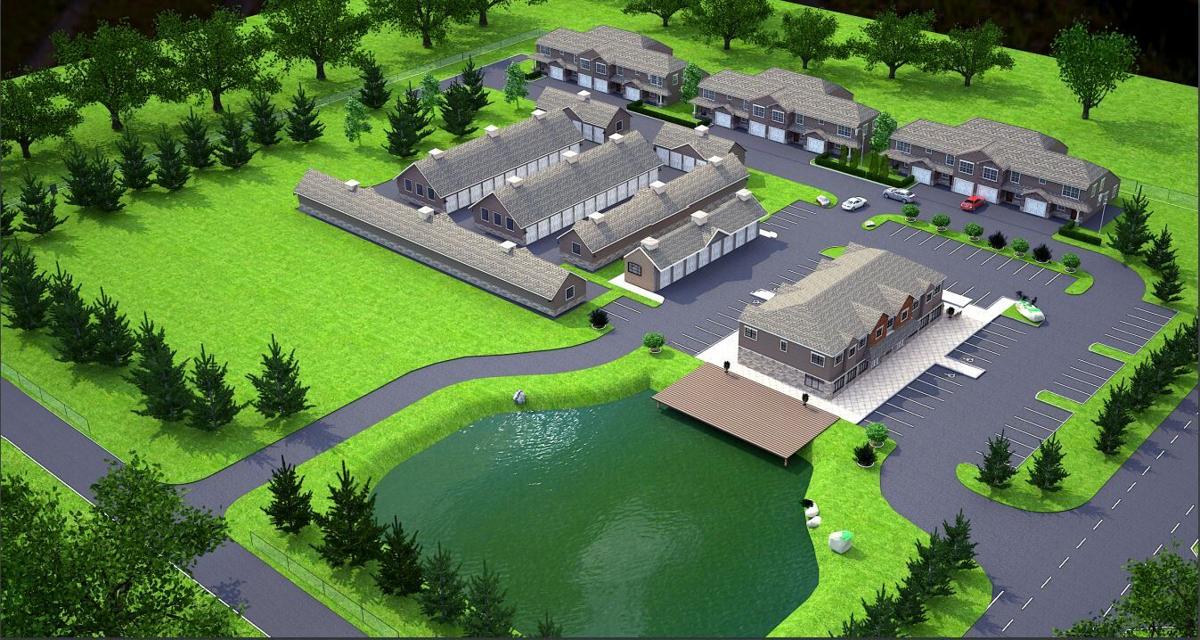 Apair of mixed-use development proposals in Clarence are poised to bring 38 apartments and additional retail space to Transit Road and Sheridan Drive.
Rane Property Management wants to put up a mix of townhome and mixed-use buildings, along with storage units, at the corner of Transit and Wolcott roads. It would include 20 residential units in all.
The Green Organization is seeking a single three-story mixed-use building with 18 residential apartments and commercial space on the north side of Sheridan, just before it intersects with Main Street and Thompson Road.
Both projects have been pending since late 2019 and received conceptual approval from the town Planning Board on Wednesday, but still require final development plan approval after a more detailed technical and engineering review, said Jonathan Bleuer, the town's director of community development. They also require special exception use permits from the Town Board for multifamily housing.
A mixed-use project for Transit Road
Bowmansville-based Rane, led by Anthony Cutaia, is teaming up with the Hanania Family Partnership to redevelop a 6.88-acre property owned by Hanania at 7621 and 7631 Transit, at the southeastern corner of Wolcott. The site – which is zoned restricted business district – has four existing buildings, including the former Bitterman's Automotive Center and a multifamily house, but those will be demolished.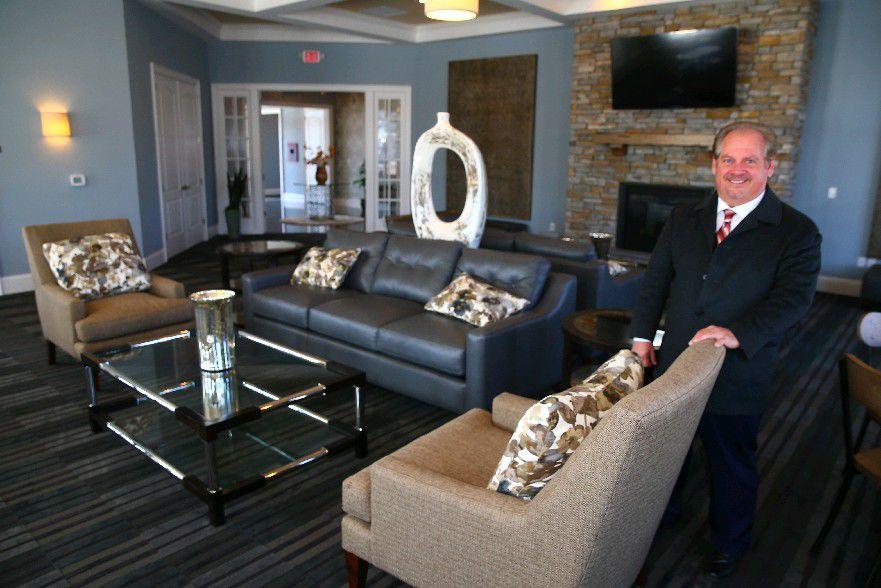 In their place, Rane proposes to construct:
Three four-unit townhome buildings at the southern end, with two-story units in the middle and one-story units on either end.
A two-story building in the middle with 6,700 square feet of commercial space and one apartment on the ground floor, and another seven apartments on the second floor, for a total of eight units. The commercial space would include a 1,500-square-foot professional office, a 2,200-square foot restaurant with 40 seats and a 3,000-square-foot retail space.
An eight-car garage building with storage rooms just east of the two-story building.
Eight single-story self-storage buildings with a total of 93 10-foot-by-20-foot units. Two of the buildings, with 11 units, would be reserved for the on-site residents. The other six – four with 12 units, one with 14 and one with 20 – are for tenants of other Rane properties.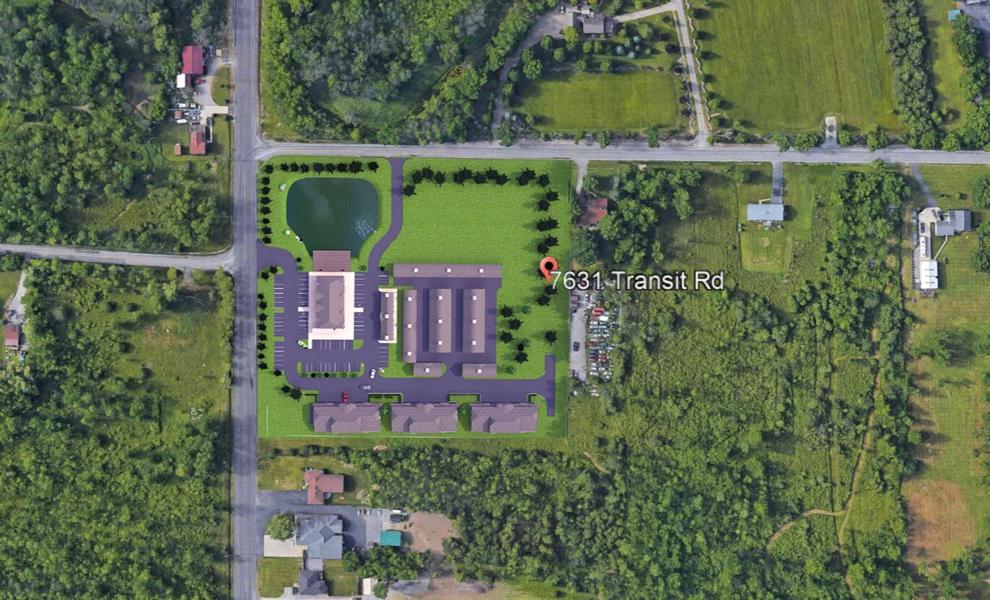 Designed by Carmina Wood Morris, the project will include a main entrance from Transit and a secondary entrance from Wolcott, and plans include 104 parking spaces – 84 surface stalls and 20 garage spaces.
About 4.28 acres will remain greenspace, with 1.1 acres for recreation.
This is the latest project for Cutaia, who formed Rane in 2006 but has been growing more rapidly in recent years with projects in East Amherst and Clarence such as Dockside Village Apartments, Fox Creek Estates and Lockwood Villas, as well as Heron Pointe on Grand Island, Clifton Heights in Hamburg and Fairways at Lancaster.
Most recently, the firm renovated the former Immaculata Academy in South Buffalo into The Oaks at South Park, with 152 one-, two- and three-bedroom "carriage-style" apartments with private entries and garages. Those units are now leasing, said marketing director RaeAnne Plouffe. Rane also converted part of the school building, gym and auditorium into a clubhouse known as the Town Center.
Apartments, offices on Sheridan Drive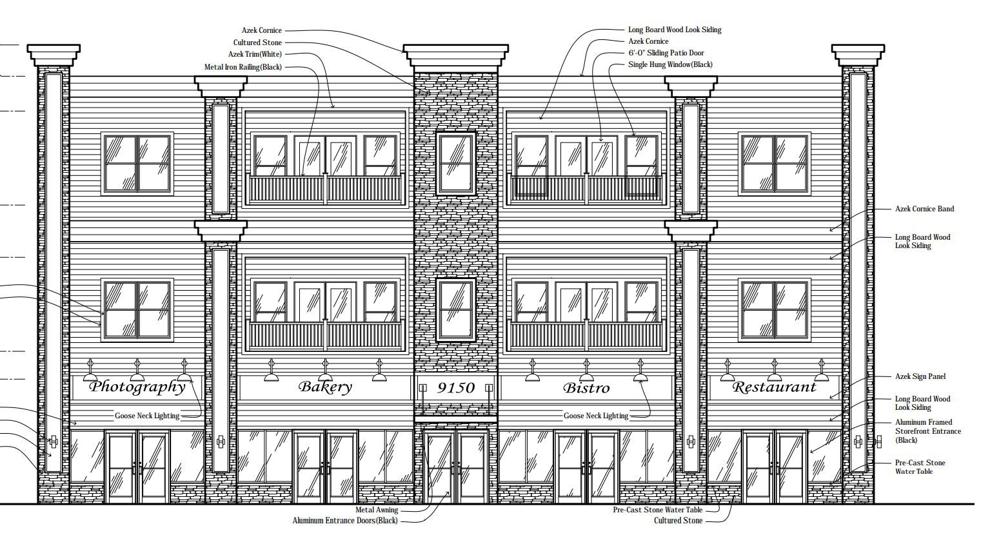 The Green Organization of Williamsville, led by Bryan and Matt Green, is planning to build a 28,800-square-foot, mixed-use building at 9150 Sheridan Drive. The developer has the property under contract to acquire it.
Designed by Sutton Architects and Carmina Wood Morris, the building would include 18 apartments across the three floors, plus 6,400 square feet of ground-floor commercial space. It would have two apartments alongside the commercial space, with eight units each on the second and third floors.
The units will include a mixture of 800- to 850-square-foot one-bedroom and 1,000- to 1,100-square-foot two-bedroom apartments, according to documents filed with the town. Rents will range from $1,500 to $1,900, Matt Green said.
In response to comments from the Planning Board and town officials, the developer modified its proposal to include recreational elements, such as public benches. About 2.35 acres will remain greenspace.
The Green Organization, a family-owned real estate business, has been buying and managing apartments in Amherst and Tonawanda for over 25 years, and currently has over 500 units in its portfolio. Its properties include Drexel Hill Apartments in Williamsville, Forest Green Apartments, Northwood Drive Apartments and Third Ave Townhouses in Amherst, and the Apartments at Englewood and Joseph Drive Apartments in Tonawanda.
It's currently in the process of acquiring another 114 units in two upcoming deals.
Separately, the Lancaster Planning Board tabled a site plan application for Pleasant View Garden Apartments, at 538 Pavement Road, at least until June 2.
The 24-unit apartment project by developer Elliot Lasky includes three two-story buildings on 2.2 acres, with eight units per building.
It's part of the Cross Creek development and was originally intended for a commercial plaza, but Lasky has been unsuccessful in marketing it as such for over 15 years, according to the Planning Board minutes.
There are no common hallways and each unit has its own entrance. There's also eight garages planned. Access will come from both Pavement and Pleasant View Drive.
The project requires at least one variance from the town Zoning Board of Appeals for density and possibly signage, and must also undergo an environmental review. Planning Board members also discussed changes to the sidewalks and entrances, said Planning Board chairman Neil Connelly.
Published by The Buffalo News
Related Posts