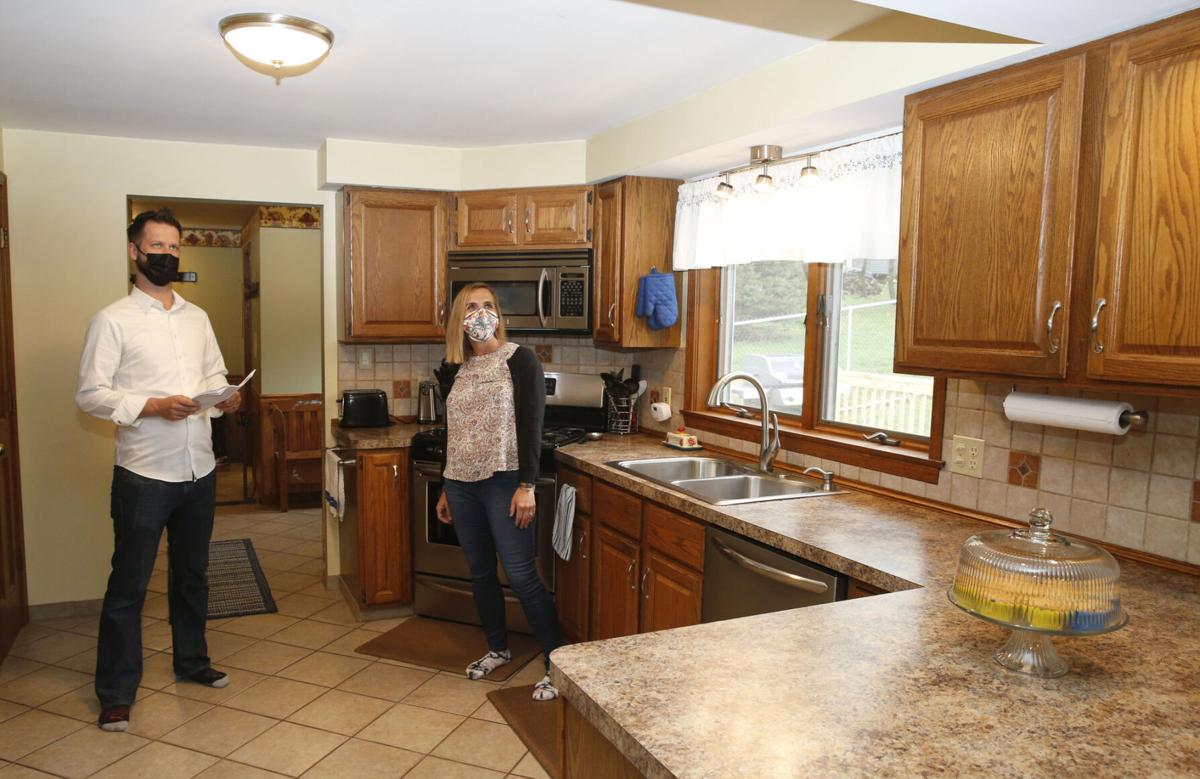 Here's one way to understand just how tight the local housing market has become: There are nearly three times as many real estate agents in Western New York as there are homes for sale.
The Buffalo Niagara market was as competitive as ever last year, with buyers struggling to find homes to buy, forcing them to bid up prices.
It's even more competitive this year.
Consider, according to the Buffalo Niagara Association of Realtors:
Choices are few. There are 1,217 homes for sale in the eight-county area as of March, down 44% from a year ago. Home buyers at this time five years ago had their pick of nearly 4,000 homes.
Sales remain brisk. There are 1,041 homes under contract that haven't closed, up 27% from a year ago. At the current pace of sales, that's only enough to cover just over one month's worth of deals.
New listings remain sluggish. Another 1,200 homes were listed in March, up 16% from last year's pandemic depressed level but about 11% less than the March average over the three years before that.
Prices are surging. The median sale prices of homes sold over the past 12 months has jumped by 12% to an all-time high of $177,000. That's more than double the price increases during each of the previous two years, and $50,000 more than just five years ago.
"I don't see any end of this in sight. The inventory just isn't there," said Michael Hartke, an agent with Howard Hanna Real Estate Services.
"It's unbelievable," said Hunt agent Tina Spyres. "I've been doing this for 23 years and I've never experienced anything like it. I don't think anybody has."
But can it last? With so few homes on the market and new listings barely keeping pace with sales, some real estate experts say the historically tight supply could start to cut into sales in the coming months, simply because there aren't enough homes for would-be buyers to buy.
"It's a very critical question for our entire market and our industry in general," said Fred Corsi, president of the Western New York region for Howard Hanna.
Brokers agree that the market won't stop completely, as there will always be houses for sale because of job relocations, marital problems, downsizing, retirement, health changes and deaths, among other reasons.
Corsi also cited the "shadow inventory" of homes that are either sold privately between parties that know each other or are sold so fast they never make it to the multiple-listing service. "All you have to do is say you want to sell your house, and there are people coming out of the woodwork saying they want to buy it," he said.
But the shortage of homes for sale has given sellers the upper hand.
"It's the strongest sellers' market I've ever seen," said Jerry Thompson, broker and owner of Century 21 Gold Standard in East Aurora.
The lack of options has created a feeding frenzy on almost every house that is available, with price surges of 125% or even 150% that may be unsustainable. Even areas that historically have been less desirable are seeing it.
Multiple offers are common. Thompson had one three weeks ago with 70 bids. Sellers are consistently getting more than they're asking for on each house. Real estate agents said it's not unusual for buyers to offer $30,000 to $40,000 over asking and still not win.
"I've had people bidding $50,000 over and not getting the houses," said Hunt agent Michael Trunzo. "And I've seen people on homes I listed pay a number I never expected the house to reach."
Karla Bow, a Hunt agent, listed an Amherst house recently for $179,900. It had 77 showings over five days, followed by 20 offers. The top four offers were all for $250,000, though with different terms, so three came away empty. "It never entered their mind for a minute that they could lose," she said of one stunned buyer's agent.
Tom and Christan O'Leary know just how hard it is to buy a house these days.
"You would think that there would be houses on the market for us to buy," Christan O'Leary said. "We're not finding that situation at all. We can't find houses."
She's a 46-year-old Buffalo teacher who hails from East Aurora, while her husband, 51, is a native Buffalo firefighter. Their current house in South Buffalo is under contract for $225,000, and they want a home with more land and space, in a good school district.
But they can't find a home to buy – despite seeing 20 houses since early March in Elma, Hamburg, Boston, Colden and Grand Island. They put down bids six times, and lost each one by as much as tens of thousands of dollars. In one case, they offered as much as $65,000 over the asking price.
"That's how desperate we are," she said. "Places I never would think of living, I'm putting in offers on houses. It's almost comical. We feel like our money isn't good enough."
They lost two offers in two days. They've lost to all-cash deals and even to the seller's skepticism about their offer. In one case, a 2,100-square-foot house in Elma with an acre of land had 27 offers, and a rival bidder's offer of $77,000 over asking wasn't enough.
"We're trying to remain hopeful," she said. "There's not enough. There's so many buyers out there. We just can't seem to find something that's suitable for us or that somebody will take an offer."
Finding a house in the Buffalo Niagara region has been getting steadily more difficult over the past three years. Agents already prepare their buyers to lose their first few attempts and to be patient.
"What I tell them is plan on being rejected five times until you can really recalibrate," said Hunt agent Nick Corto.
It's only gotten worse in the past year. The pandemic made homeowners wary of selling. The shaky economy discouraged others. Fears about finding a suitable home after selling theirs made other homeowners leery of selling.
"The problem is nobody wants to list their house until they have somewhere to go, and they don't have somewhere to go until someone lists their house," said Hunt agent Kristine Ward. "It's like a stalemate."
Many homeowners also have taken advantage of low interest rates and savings to expand or improve their houses.
"Everybody used their planned vacation money and all their meals out, and put it into their house. And now that they put it into their house, they don't want to sell, and then they hear the horror stories," said Hunt agent Tina Spyres.
"They're staying put, so it's making it hard on the first-time homebuyers," said Hunt agent Devonte Davis. "It nearly makes it impossible for renters to move up."
On top of that, the ongoing moratorium on foreclosures during the pandemic has hindered that typical supply of homes from getting to the market. "We are in a real gridlock situation," said Lynn Shaftic-Averill, a Hunt agent.
Shaftic-Averill has an investor client who typically buys derelict properties, fixes them, and either rents or resells them. He owns 45 properties in Buffalo, but she can't find him anything else to buy. "He's a cash buyer, and he's getting outbid on properties with no furnaces," she said. "And it's not just in Buffalo. It's all the surrounding areas as well."
One of her other clients bid $86,000 for a house in downtown Niagara Falls priced at $79,000 that went for $110,000. A year ago, she said, a house in that neighborhood would have fetched only $40,000.
Today, there's only enough homes for sale in the eight-county area to cover 1.2 months of sales, according to BNAR. A market where buyers and sellers have equal footing would have at least six months of inventory.
And it's not just a Buffalo Niagara problem. Nationwide, there's just a two-month supply of homes for sale, according to the National Association of Realtors.
Agents say they have started to see an uptick in inventory in the last couple of weeks, in line with expectations for spring. And they expect more homes to come on the market in the coming months, especially as more people are vaccinated.
But it's still not enough. A March report by Inspection Support Network found that Buffalo had the fewest homes for sale of any metropolitan area in the country – large, mid-sized and small – with just 39 for every 10,000 occupied homes.
So buyers are moving fast. As recently as four years ago, the average house here took two months to sell. Today, it's just 35 days on average, according to BNAR.
That's why agents encourage their clients to broaden their search geographically and consider other price ranges. Three years ago, looking at six towns would produce too many options, said Hunt agent Christie Noonan. But now, if a buyer listed six towns to explore, "I would tell them to add more."
Meanwhile, the low interest rates continue to draw out buyers in droves, particularly first-time buyers who are eager to leave their parents' houses, start a family or just stop renting. Realtors also report an influx of out-of-town buyers – especially from expensive markets like New York City – who are seeking lower-cost places to live, particularly if their jobs are going to remain remote for the long-term.
But that means a crush of bidders for many homes. So buyers are putting their best foot forward – usually after losing out multiple times before – in a rush to outbid everyone else.  Not only are buyers making aggressive offers, but they're putting up more cash, waiving home inspections and in a growing number of instances, including escalator clauses in offers that indicate a willingness to bid even higher.
To get the money, buyers are tapping friends and family, even pulling from retirement funds.
In a nutshell, they're doing anything and everything to look better. "I've been shocked to see how many people are coming in, buying with cash," said Hartke. "That instantly knocks out a lot of the young families, because they just don't have that."
The result is that prices are rising in a way that Buffalo isn't used to. First-time homebuyers in the suburbs are now looking at prices in the mid-$200,000 range, or even $300,000 – for homes that used to cost $150,000 just a few short years ago.
"It's panic buying," Scarcello said. "They lose out so many times, so we're getting the run-up in price."
Justin Luksch and Brianna Koerne got married last week, so they're taking a short break from the house search that they started two months ago. He's a middle-school social studies teacher at a Catholic school in Depew, while Koerne works in occupational therapy in the Lackawanna schools.
The couple has put in offers on four or five houses, in each case going at least $20,000 over the asking price, Luksch said. It wasn't enough, though. Half the houses wound up selling for more than $40,000 above the list price.
One 1,300-square-foot house they pursued in Alden was listed at $159,000 and went under contract for $203,000. Smaller houses in Depew and Cheektowaga, at 900 to 1,100 square feet, wound up selling for $200,000 or more.
"We're no closer to buying a house than we were in February," said Luksch, 28. "We figured it would be getting a little easier, but it seems like it's getting harder at this point. It's just kind of nuts for us."
Published by The Buffalo News
Related Posts