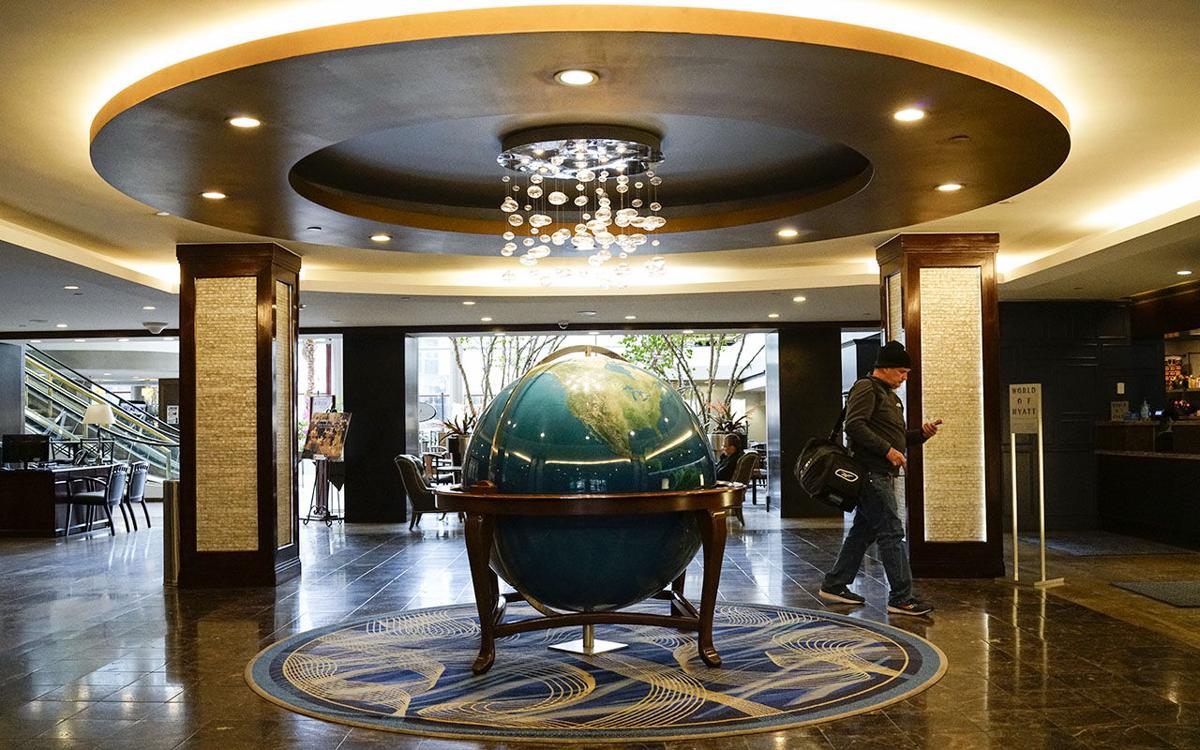 Washington developer Douglas Jemal is once again challenging the tax assessment on one of his major properties – this time, the closed Hyatt Regency Buffalo that he is acquiring from Snyder Corp.
Jemal, on behalf of Genesee Hotel Properties, is asking the City of Buffalo to cut the assessed value of the 396-room full-service downtown hotel by nearly 80%.
That would lower the assessed value of the 350,000-square-foot hotel from $18 million currently to $3.72 million.
The fair market value, similarly, would fall from $20.34 million to $4.2 million. Buffalo assesses properties at 88.5% of their fair market value.
A separate 27,000-square-foot office portion of the property is currently assessed at $1.7 million, with a fair market value of $1.92 million. Jemal wants that lowered to a $430,000 assessment, with a market value of $486,000.
The application filed by attorney Peter Allen Weinmann notes that the hotel "is closed, vacant and non-income producing" because of the Covid-19 pandemic, and is now in foreclosure, with a court-ordered receivership in place to manage the property.
"I expect some resistance to the precise value. They won't resist that fact that it should have a lower tax assessment, because there is no longer an income stream, and this in all likelihood would be a temporary fix," Weinmann said. "On the other hand, the city sometimes has gone to the mat in cases, and we have had to fight tooth and nail for tax justice."
Jemal last June challenged Amherst's $30 million assessment on the Boulevard Mall, citing his $24.05 million purchase price, the plunge in business because of the pandemic, and the uncertainty of consumers' returning. Town officials, however, said they wouldn't budge, and planned to take the fight to court. Weinmann is also representing the developer on the mall.
In the application for the Hyatt, Weinmann cites recent comparable sales of the 226,200-square-foot Rand Building at 14 Lafayette Square and the 238,000-square-foot A&P warehouse building at 545 Swan St. Rand sold for $3.9 million in 2015, or $17 per square foot, while A&P sold for $1.5 million in 2016, or $6 per square foot.
Those divergent prices yield an average of $12 per square foot, Weinmann argues. Applying that to the two Hyatt components yields the requested new assessments.
Weinmann acknowledged that the two sales he cites are very different than the Hyatt, but said that's not unusual in commercial real estate valuations.
"Those are the two closest comparable sales we could come to in terms of size and similarity," Weinmann said. "It's not quite a unicorn, but it's close to it, so we have to do the best we can. Both of them are large, old monstrosities that recently sold."
Developed from the historic Genesee Building that sits on 1.8 acres and dates to 1922, the 16-story Hyatt opened in 1984, and was renovated in 2008-2009. It includes more than 27,000 square feet of function space with 10 meeting rooms, three dining options, a fitness center and spa, an indoor swimming pool, a full-service business center and a gift shop and newsstand.
The full-service hotel has been owned by Snyder since opening, but it fell into foreclosure last spring after Snyder got into a fight with Hyatt Hotels Corp. and defaulted on its $20.5 million mortgage. At the time Snyder obtained the mortgage, the Hyatt had been valued at $39 million by an independent appraisal.
The flagship hotel – the second largest in the city – had been a strong performer but lost the bulk of its occupancy after the pandemic shut down virtually all business, convention and leisure travel. Hyatt – which operated the hotel for Snyder under a unique management agreement that it wanted to get out of – demanded that Snyder put up $2 million plus working capital to support operations, and then terminated the agreement and laid off the staff last May when Snyder refused.
The special mortgage servicer, LNR Partners of Miami, filed for foreclosure in June after Hyatt announced its pull out and closure, and the court appointed attorney Raymond Walter as receiver. He then hired Aimbridge Receiver Services to manage the property, which has been closed since the March.
LNR put the mortgage up for sale, and Jemal bought the loan. The price was not disclosed, but the sale resulted in a "bigger-than-expected" loss of $10.8 million for the bondholders that previously owned the mortgage, according to Trepp LLC. Jemal then began talks with Snyder to take full possession of the property through a deed-in-lieu-of-foreclosure, which Weinmann said the two parties are "working on."
Published by The Buffalo News
Related Posts