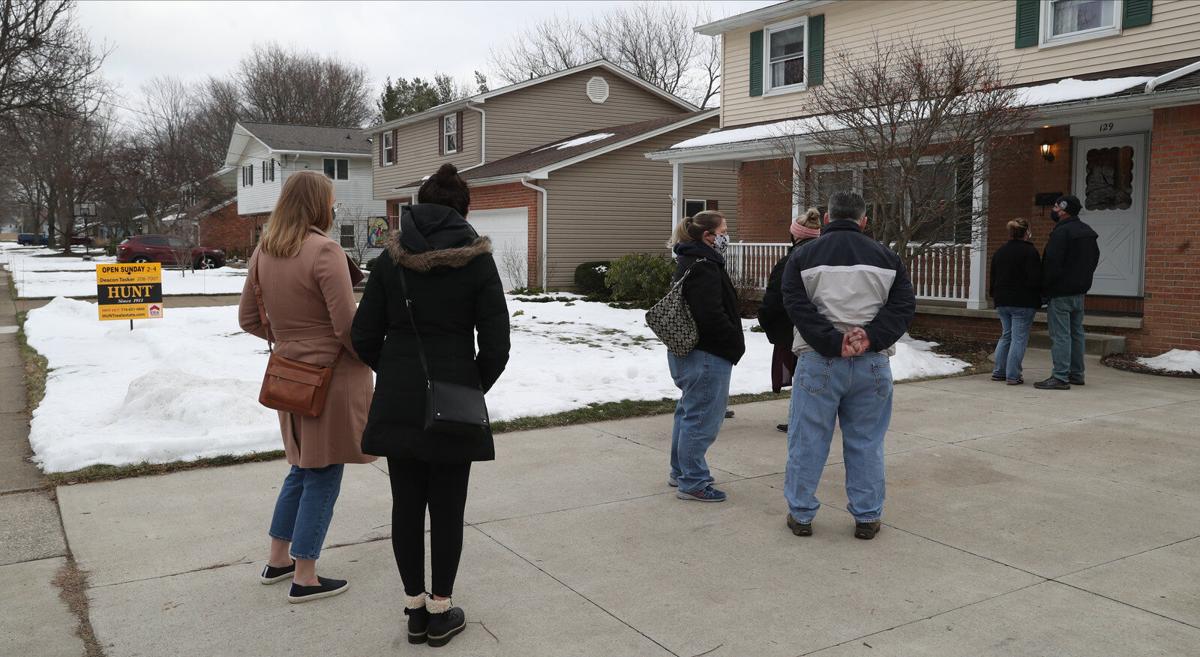 If there's one burning question that real estate agents share as 2021 begins, it's a simple one:
When will the home sellers return?
Unfortunately, there's no easy answer. And until sellers return, it's likely to mean home prices will keep rising, and the challenge for house hunters to find a home they want to buy will remain intense.
"As soon as a good house comes on the market on a good street, bingo! It is gone," said Susie Lenahan, a longtime agent at M.J. Peterson Corp.
That's because, for at least the last four years, the housing market locally – and nationally – has been characterized by an ever-increasing shortage of available homes for sale.
So there's less for buyers to choose from. And since not all homes are created – or built and maintained – equally, the buyers have flocked to those that are more attractive and updated, in desirable neighborhoods, or in the best school districts.
The result has been insane competition and bidding wars for the most popular homes, with dozens of people traipsing through open houses and tours, and driving prices through the roof – not to mention the heightened stress level for buyers.
That's great for sellers, but usually leaves behind many more losers in the homebuying battle, who then move on to the next house, and so on. And it's only gotten worse.
It's a basic numbers game.
The wildly frenetic sales pace of the past decade – driven by pent-up demand after the last recession and record-low interest rates for a prolonged period – has steadily eaten away at the large surplus of homes that existed 10 years ago. At that time, there were more than enough homes on the market to cover more than six months of activity – a healthy balance.
But the rate of depletion has been rapid, far outpacing the number of homes newly added to the listings each month, creating a huge mismatch.
So where nearly 6,800 homes were listed on the Western New York market in July 2011, today that inventory has fallen to less than 1,600 as of November – a 77% drop, and the lowest on record from the Buffalo Niagara Association of Realtors. At the current rate of sales, there's only enough homes available for a month and a half of buying.
That's an unsustainable imbalance in a market that still seems to have insatiable demand. And it's driving some buyers to become even more aggressive with their bids, or to give up altogether and either wait until later or else turn to new home builders, who have been having one of their best years, despite the ravages of the Covid-19 pandemic and the resulting recession.
But it's also prompting real estate agents and brokerage firms to delve deeper into the "why" – or rather "why not" – of potential sellers not listing their homes, and to get creative about changing that.
Some homeowners have already made their move, or took advantage of the low interest rates to refinance, so they have no reason or incentive to sell.
Some have invested in home improvements and additions, choosing to enhance their current homes for the long term – even into their senior years – rather than endure the homebuying fracas.
Some are staying put because they don't have confidence in their job status or financial situation, or even because of Covid-19 fears.
Those reasons are harder to address, at least for brokers. Even with a new administration in Washington, economic and health concerns aren't going away anytime soon, not before enough people are vaccinated so that the economy can fully reopen without concern about spreading disease. And that's out of the hands of real estate agents.
For many potential sellers, the holdup is simply that they don't know where they would go, or they fear not being able to find or afford a new house because of their finances or the competition. They're afraid to be stuck without a place to live. So they hold off.
That's something that agents can target. So brokers are trying to counter the problem through aggressive outreach to potential sellers, trying to persuade them to tap the market now.
To provide extra encouragement, they're citing various tools the sellers already have at their disposal, or programs offered by the brokerage firms, to make the process easier.
For example, sellers can already control the terms of their transaction, particularly the timing of the closing. So they can insist on more time to find a new house, said Charlie Hunt, chief operating officer for Hunt Real Estate Corp. Buyers are so eager for every advantage over their competition that many are providing sellers with that leeway, he added.
"This should give them some peace of mind to go ahead and list without having found their new home yet," Hunt said.
Both Hunt and Howard Hanna Real Estate Services – the two dominant brokerage firms in Western New York – also offer programs to reassure sellers.
Hanna's Buy-Before-You-Sell lets a customer use the equity in their current home toward a down payment on a new one, while Hunt's ERA Seller Security Plan pledges to buy a customer's home if it's not sold within a set period of time. Other major brokerage franchise networks have similar efforts.
In the end, though, there's only so much that the real estate industry or anyone else can do, no matter how many incentives they offer. After all, you just can't force someone to do what they just don't want or need to do.
"We're really not sure. We're trying to figure it out," said agent John Ostrowski of Howard Hanna Real Estate Services. "We sure hope there will be more inventory coming."
Published by The Buffalo News
Related Posts