A historic Victorian-era boarding house turned seasonal hotel on the shore of Chautauqua Lake is poised to become an upscale year-round destination – with an event center, spa and pool – under a $9.9 million rehabilitation and expansion project by a Pittsburgh-area couple.
William H. Curry II and Jill H. Curry of Glenshaw, Pa., plan to buy the Hotel Lenhart in the Village of Bemus Point and then turn it into a modern hospitality venue that will draw tourists to the Chautauqua County community.
The renovated hotel will have 40 guest rooms with updated features, while still displaying the historic character that defined the heyday period during which it was built.
Originally a boarding house, the hotel has been in operation since 1880, but recently operated only from Memorial Day to Labor Day. It currently includes a 23,970-square-foot hotel and 11,918 square feet for guest houses, a carriage house and a bakery.
The Currys, who own a home on the lake, said they have been discussing the project with county officials since at least spring 2021. Work is expected to begin this spring, with completion by late fall 2024.
"I am excited about the investment that is being made in one of the two remaining 19th-century hotels that was an essential part of Chautauqua Lake's grand era," said Chautauqua County Executive P.J. Wendel. "This investment will ensure the tradition of Victorian hospitality with modern amenities so the hotel can continue to attract visitors to our community for years to come."
Through their Chautauqua Lake Hospitality LLC, the Currys will pay $3.5 million to acquire the 2.1-acre site at 20 Lakeside Drive from the current owners – Lenhart Enterprises and John, Deborah and Barbara Johnston.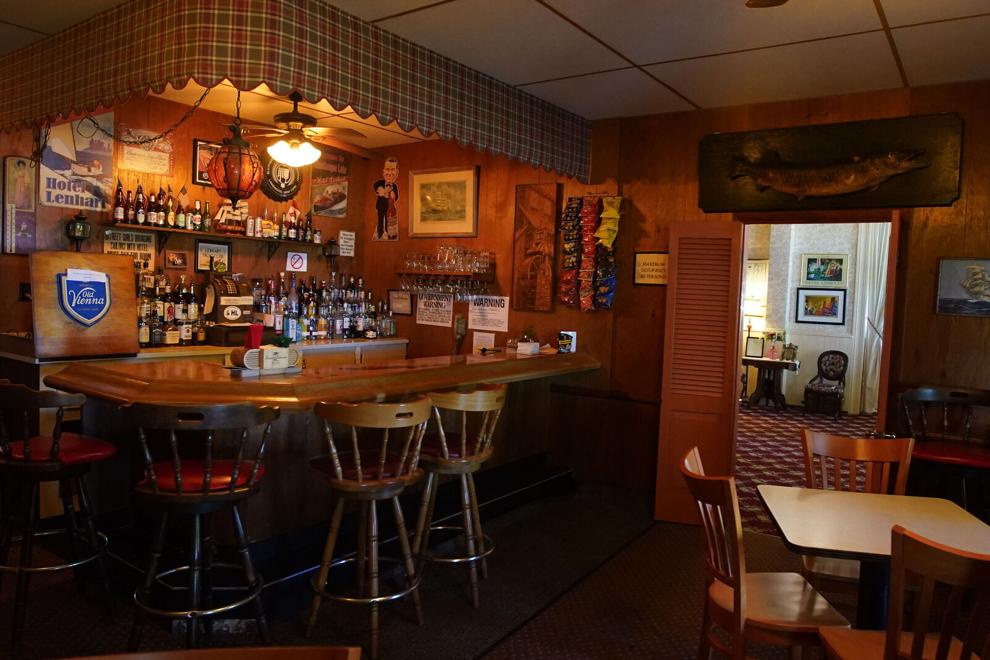 The Currys then will renovate the 35,888-square-foot, multi-building complex, while adding another 5,934 square feet for third-floor employee housing, a 566-square-foot ground-floor solarium and a 745-square-foot rooftop bar.
All guest rooms and common areas will be upgraded, and the project also includes an expanded Crystal Dining Room for guests and visitors, an outdoor deck, an elevator and other accessibility improvements.
"The Hotel Lenhart renovation and subsequent operation by our family is an endeavor we are very excited and passionate about," the Currys said in a statement. "We see it as a privilege to uphold the legacy of the hotel and to make it a vital part of the Village of Bemus Point."
The County of Chautauqua Industrial Development Agency on Tuesday approved a package of sales, mortgage-recording and property tax breaks, totaling nearly $843,000.
"This project is important on many levels," said Mark Geise, deputy county executive for economic development and CEO of the CCIDA. "It will not only provide a year-round destination spot to invigorate the Village of Bemus Point, [but] it will restore one of the five original grand hotels that used to adorn Chautauqua Lake's shores.
The Currys said the hotel and cottages will be available all year, and they are keeping the well-known rocking chairs from which patrons can watch the sunset from the hotel's front porch or lawn.
"We are advocates for building originality, with an upscale approach. Modern elegance and historic charm will tie flawlessly together to create a very special venue for local residents and visitors to enjoy," the couple said.
Bemus Point Mayor Jeffrey Molnar praised the Currys' "passion for not only the historic preservation aspect," but also "their plan to integrate their business into the community by offering their amenities and space for community use."
"We realize that this is a massive undertaking which will be a game changer for the village," Molnar said.
Source: The Buffalo News
Related Posts