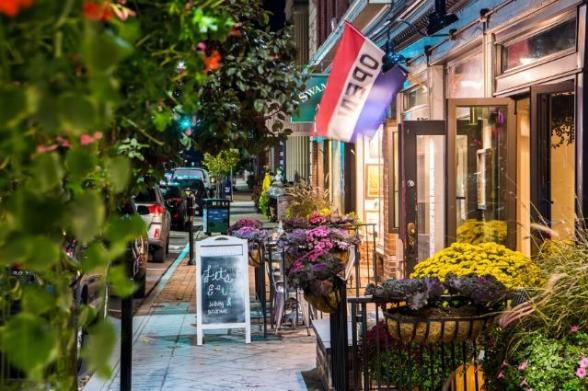 How many main streets in New York have you shopped? With unique architecture, beautiful window displays, and business-lined sidewalks, the state boasts some of the best main streets for shopping. From classic souvenirs and high-end clothes to thoughtful keepsakes and handmade items, there are options for everyone. Take your next shopping trip along a picture-perfect main street in a New York State village, town, or small city with a small-town feel. Remember to stay as local as possible and keep six feet apart from others not in your party and wear a mask or face covering. Call ahead and check websites and social media to make sure attractions are open and available. Be advised that New York has a travel advisory in effect.
Ithaca (Finger Lakes)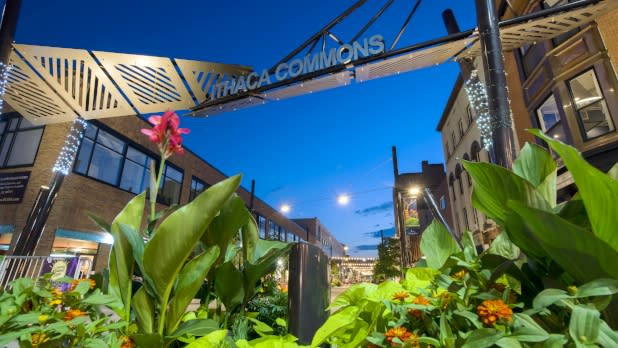 Home to the Downtown Ithaca Commons and Press Bay Alley, Ithaca offers multiple shopping experiences. The award-winning Ithaca Commons is a four-block pedestrian-only area with a variety of shops, restaurants, and art galleries. Discover handcrafted jewelry at 15 STEPS and delicately crafted vases and sculptures at American Crafts by Robbie Dein. While you're at the Commons, try incredible vegetarian and vegan dishes at well-known restaurant Moosewood—popular for its ever-changing menu that utilizes seasonal ingredients, and for its influential cookbooks. If you're in the mood for a sandwich, Gorgers features tasty subs for all taste buds!
Catskill (Catskills)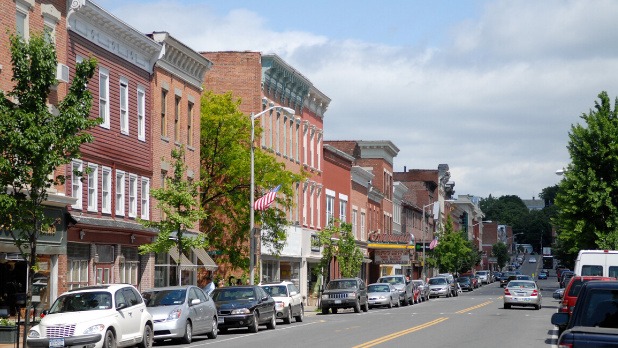 In addition to a stunning natural landscape and rich history in art, the Catskills host some incredible main streets. One of the most vibrant is in Catskill. Running parallel to the Catskill Creek, Catskill's Main Street offers stores with locally made products, diverse restaurants, and specialty shops. Begin your shopping trip with a freshly brewed coffee or loose-leaf tea at HiLo Cafe. As you wander by Victorian buildings along Main Street, find new-to-you secondhand books from Magpie Bookshop and browse delicate handmade gifts at Mahalo. If you've worked up an appetite shopping, try the pierogi platter at New York Restaurant or grab a locally sourced snack at the Catskill Country Store. On your trip to the Catskills, also check out the shopping (and eating!) on Tinker Street, Mill Hill Road, and Rock City Road in Woodstock, Main Street in Tannersville, and Main Street in Delhi.
Clayton (Thousand Islands-Seaway)

Credit: George Fischer
Located along the shores of the St. Lawrence River, Clayton provides a unique shopping experience for those who visit by land year-round and also by water in the warmer summer months. Clayton doesn't have just one main street to shop—the Village of Clayton, located within the town, has several streets with shops to explore. From souvenirs and jewelry to clothing and locally made food items, you can find a gift for anyone in Clayton! Taste the flavors of the Thousand Islands with "original" Thousand Islands dressing or "River Rat" cheese. Get personalized clothing at Freighters of Clayton, a small shop with nautical-themed items perfect for all water lovers! Keeping with the nautical theme of the Thousand Islands, Reinman's Department Store features a wide variety of decorative, boating, and hardware items. Learn about the intricate architecture found in Clayton on a self-guided walking tour—stop by the Chamber of Commerce for information on the tour.
Saranac Lake (Adirondacks)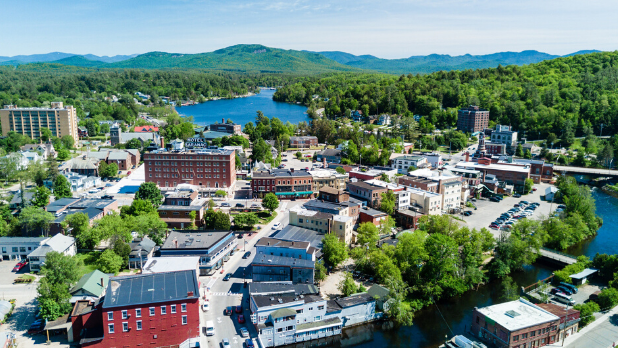 Nestled in the picturesque Adirondack Mountains, Saranac Lake is a must-see New York State destination. Broadway, the main street through town, and the roads just off Broadway in Saranac Lake's historic downtown, are filled with Adirondack shops, art galleries, restaurants, and coffee shops. Feel the community-oriented vibe of the village as you walk along the downtown streets, stopping by Goody Goody's toy store, The Book Nook book shop, and the Adirondack Trading Company gift shop. Shopping for a music lover, or maybe an outdoor adventurer? Ampersound is the place to go for music-related items, and Blue Line Sports has everything from hunting and winter sports gear to camping accessories and team sports equipment.
Northport (Long Island)

Experience the scenic waterfront town of Northport, part of Long Island's Suffolk County, any time of the year. The location along Northport Harbor makes it convenient for shoppers to visit via boat as well. The pedestrian-friendly Main Street, located in the Village of Northport, provides visitors with a local community feel—featuring several boutiques, gift shops, restaurants, and art galleries. LaMantia Gallery and the Firefly Artists are among the many art galleries located along Main Street. After browsing incredible works of art, check out live music and grab a drink at Gunther's Tap Room—a favorite destination of the late poet and author, Jack Kerouac. Don't leave the village until you've treated yourself to homemade ice cream at Northport Sweet Shop, or a pastry at Copenhagen Bakery. On Saturdays from June to mid-November peruse vendor booths at the Northport Farmers' Market, held at Cow Harbor Park, at the end of Main Street.
Ellicottville (Chautauqua-Allegheny)
The historic Village of Ellicottville features multiple streets for shopping, not just one "Main Street." Monroe Street and Washington Street are two of the prominent intersecting streets in downtown Ellicottville that are lined with shops and restaurants. Find colorful socks for every personality type at the Purple Doorknob, and all the ski gear you could ever want at the City Garage and Mud, Sweat n' Gears ski shops. Take a break from shopping with a seasonal beer at Ellicottville Brewing Company or a glass of wine from the Winery of Ellicottville. Finish your shopping excursion with a decadent treat from Cupcaked Bakery and sponge candy from Watson's Chocolates. After exploring downtown, head to nearby Holiday Valley Resort—offering skiing and snowboarding in the winter and adventure parks and mountain biking in the summer.
Cooperstown (Central New York)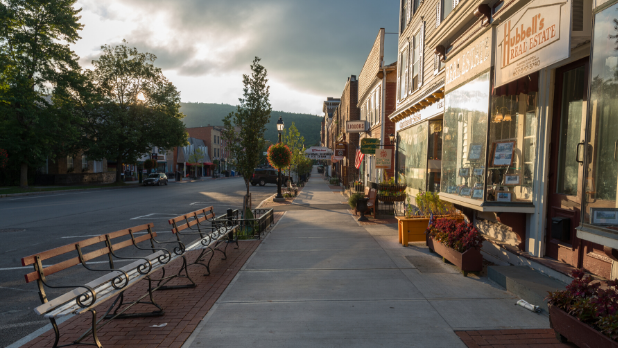 After just a few steps walking along Main Street, you'll experience the vibrant, yet historic atmosphere of Cooperstown. As the proud home of the National Baseball Hall of Fame and Museum, Cooperstown carries the theme throughout the village with shops selling autographed memorabilia, apparel, and baseball hats. In addition to baseball-oriented stores, Main Street is home to gift shops like Riverwood and Tin Bin Alley. While you're strolling Main Street, stop by Doubleday Café for a juicy burger or Schneider's Bakery for a homemade doughnut. Just off Main Street, the Cooperstown Farmers' Market occurs year-round. Find all kinds of items, such as fresh produce, meats, honey, and jams from vendors within 50 miles of Cooperstown. Rest after a busy day of shopping at the beautiful Inn at Cooperstown or the Otesaga Resort Hotel. Check out our Spotlight: Cooperstown blog to plan your trip, down to the minute!
Saratoga Springs (Capital-Saratoga)

Known for its exciting summer season at the Saratoga Race Course and energized downtown, Saratoga Springs is a gem, located north of the state's capital. Lined with unique shops, celebrated restaurants, and delightful coffee spots, Broadway is Saratoga's "Main Street." A walkable and dog-friendly street, Broadway is beautifully decorated throughout the year, especially during the holiday season. As a nod to Saratoga's horse racing history, several shops feature horse-related items, such as stuffed animals, drinking glasses, and shirts. Try it before you buy it with honey samples at Saratoga Tea & Honey Co. and olive oil, as well as balsamic samples at Saratoga Olive Oil Co. For kids and kids at heart, G. Willikers toy store is the place to explore for games and toys. Always looking for a good book? Explore the shelves at Northshire Bookstore, one of the largest independent bookstores in the region.
Cold Spring (Hudson Valley)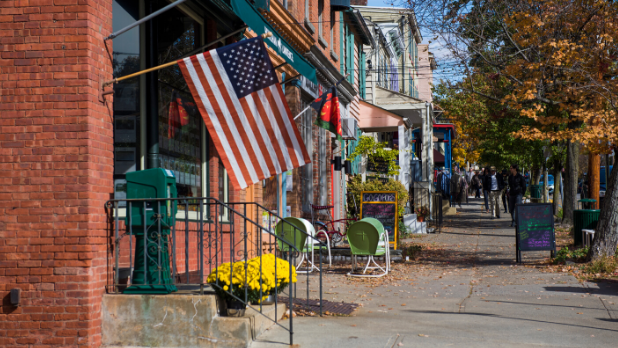 Cold Spring, located approximately 50 miles north of New York City and alongside the Hudson River, provides visitors and locals alike with art galleries, antique shops, clothing stores, coffee spots, and eateries—all on the village's Main Street. Shopping for yourself? Get candles and home decor pieces at Burkelman to spruce up your house each season of the year, and find a new book from Split Rock Books (open by appointment) to indulge in a little "me" time. Trying to find a gift for someone that has everything? Head to Cold Spring Apothecary for health and wellness products made with high-quality ingredients. Don't leave Cold Spring on an empty stomach. From salads and sandwiches made with local ingredients at Hudson Hil's Cafe, pizza and calzones from Cold Spring Pizza, and homemade ice cream from Moo Moo's Creamery, there are plenty of options to choose from! Use our 48 Hours in Cold Spring blog as a base for your next trip!
Published by I Love NY
Related Posts