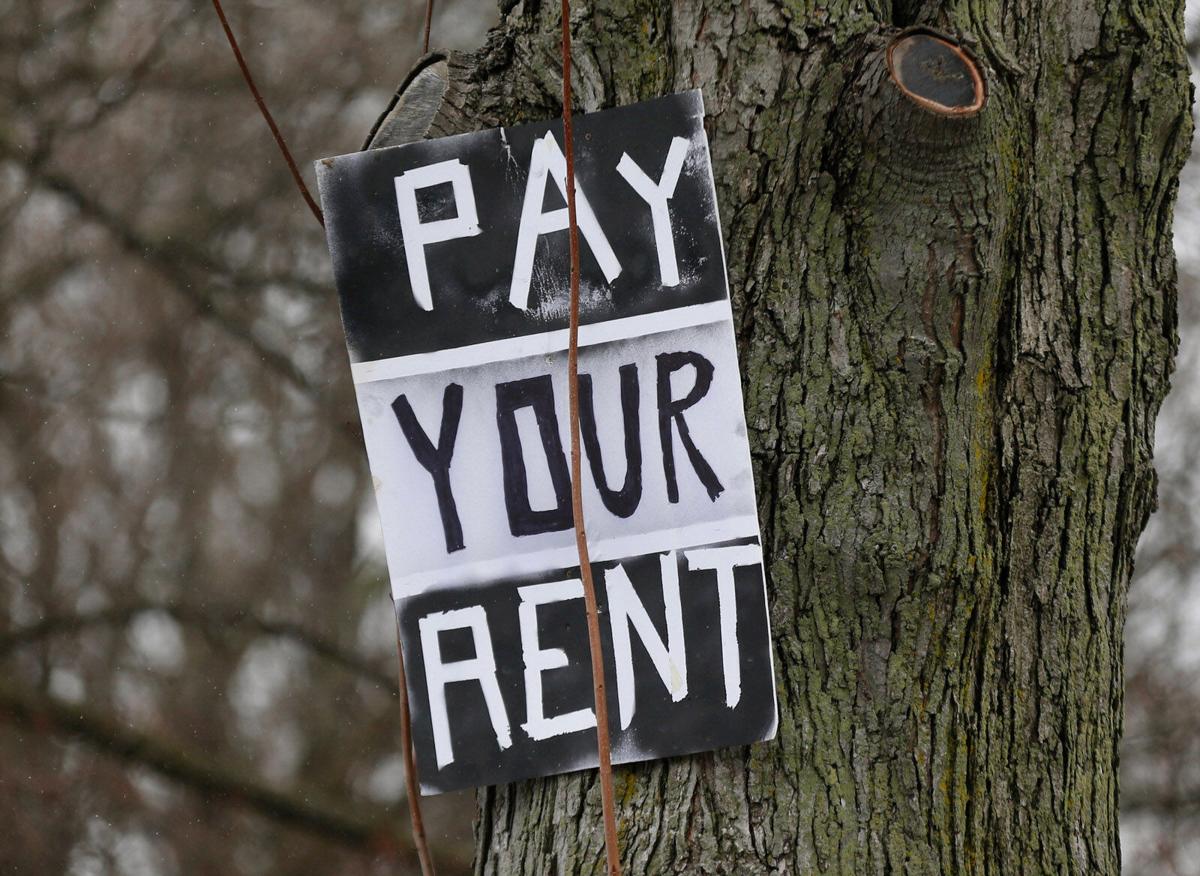 Teresa Watson had lived in her apartment for almost two years when her landlady realized she could do better. Five months into the pandemic, in October 2020, she informed Watson and her roommate that the monthly rent on their West Side apartment would soon jump from $800 to $1,250.
Neither tenant could afford the more than 50% increase – and at first, it appeared neither could afford to move out, either. Since February 2020, rental prices increased by 16% across the Buffalo Niagara region, according to a Buffalo News analysis of Zillow data.
As the housing justice organizer for PUSH Buffalo, a neighborhood advocacy group, Watson understood these market changes far better than most. The spike – prompted in large part by pent-up pandemic demand, local development and fallout from the state eviction moratorium – has made it challenging to find open units for even well-off renters, let alone low- and moderate-income tenants. Housing agencies and assistance programs have been overwhelmed by the flood of people requesting their help.
But the suddenness and the scale of the hike still surprised Watson, who has since moved to a far smaller apartment.
"I told her we couldn't afford it," she said of her landlord. "But she decided she could get a lot more for that unit."
Stories like Watson's were once uncommon in Buffalo, with its moribund housing market and dirt-cheap real estate. In comparison to most midsize cities, rents here remain inexpensive: an estimated $1,132 per month across midrange properties, according to a weighted Zillow index that the federal government has cited as a metric of housing inflation. Nationally, average rents rose 16% between January 2020 and February 2022 – while real weekly earnings grew by 2% over the same period, according to the Bureau of Labor Statistics.
The pandemic can be blamed for much of the jump: Across the country, falling caseloads and mounting vaccination rates unleashed a tidal wave of pent-up demand for units. People who moved in with friends or family are moving out again. Would-be homebuyers are renting for longer periods, priced out of the housing market.
But the supply of quality rental units remains inadequate, both across the country and in Western New York. Buffalo, in particular, has lost more units to deterioration and neglect than it has gained from new development, said Sandy Becker, the senior housing programs manager at Belmont Housing Services.
That imbalance between supply and demand has all but guaranteed that landlords will find tenants, even if they raise rents.
Some apartment listings are up for a week and get 400 or 500 applicants, said Demetri Realmuto, a case manager at Spectrum Health and Human Services who tracks listings closely on behalf of his clients.
In a classic case of unintended consequences, New York State's 19-month eviction moratorium may also have played into increases by restricting the number of available units on the market, said Sarah Wooton, a community researcher at the left-leaning think tank Partnership for the Public Good. On top of that, case managers and housing advocates said that many small- and midsize landlords, unable to evict non-paying tenants, compensated for those losses by raising rents on their other units.
Some landlords have also added credit checks and income thresholds to help protect them against non-payers, effectively taking more supply off the market. It's not unusual now for landlords to request income three times the monthly rent, said Dan Hanssel, Belmont's landlord outreach specialist.
In other words, to live in a midrange, $1,132 apartment in Buffalo Niagara, a tenant's annual income must approach $41,000. Roughly a third of Erie County residents fall below that threshold, according to new U.S. census data.
On top of that, high-end development and out-of-town investment – of the type that has excited developers and city officials – appears to have nudged average rents higher. Current listings on the real estate site Apartments.com show that some redeveloped downtown buildings, including the Marin Building, the Lofts at Elk Terminal and the Asher Crossing Apartments, now command monthly rents between $1,650 and $1,900 for one-bedroom units. That trickles down to mom-and-pop owners, too.
"My little guys are looking and saying, 'hey, I'm charging $700 for my studio, and this guy's got a fancy one for $2,000. I should be able to get $1,000," Hanssel said. "The higher end of the market is pulling up the lower end."
For tenants facing these dramatic increases, the options are both difficult and few. Local housing case managers have seen priced-out tenants downsize, move in with family or rent sparser, less-maintained apartments. These include units without consistent heat or running water and pest and rodent infestations, Becker said. Last summer, during one of his Zillow scouting missions, Realmuto found a listing for an unrenovated, unheated two-car garage – advertised as a "one-bedroom apartment."
Kexin Ma, the executive director of the Homeless Alliance of Western New York, said some portion of these renters may become homeless in coming months, particularly as new eviction cases work their way through the court system. Thanks to the eviction moratorium, Western New York's population of unhoused people fell since 2020. But those people stayed in emergency shelters far longer than they did before the pandemic, even after an influx of federal funding.
"The amount of funding available is unprecedented," Ma said. "But the challenge is finding affordable housing … We're in a complicated scenario, because we have so much money – but we can't really place any clients."
Emergency resources, including rapid rehousing and short-term rental assistance, are available to people who have lost their homes. (To access these services, Western New Yorkers can dial the 211 helpline for a referral.)
Far more limited resources are available, however, to tenants who cannot afford their rent but aren't yet homeless. One federally funded assistance program, called Stand Up Buffalo, awards up to six months of payment assistance under certain circumstances. Neighborhood Legal Services also provides free aid to tenants who cannot pay rent, live in substandard housing or face eviction.
On its website, however, the nonprofit warns that "more people ask for our help than we can serve" – a frequent problem across local and federal housing programs. The wait list for Western New York's Section 8 voucher program, designed to help low-income people rent on the private market, is now 11 years long, Becker said. Voucher amounts are also tied to an annual "fair market rent" determined by the federal government, and they increasingly fall short of local costs.
"More than 10% can't find housing to rent because of the lack of housing stock and the fact that rents are way outside what the program would allow," Becker said of Section 8 participants. "So we have all these folks who are in jeopardy of losing their voucher because they can't find housing to rent."
Advocates hope the crisis will prompt local and state governments to take action on a number of pending housing bills, including a 10-plank "Buffalo Tenant Bill of Rights" that a coalition of more than 20 advocacy groups proposed in December. Among other policies, the proposal argues for measures that would limit annual increases on many units, ensure a share of total units remain affordable, and offer grants and low-interest loans to tenants who can't access state or federal assistance programs.
The Buffalo Common Council also voted in February to support a statewide good cause eviction bill, which limits both rent hikes and the circumstances in which tenants can be evicted. But landlord and property-owner groups have fiercely opposed good cause legislation, and since its introduction in January, the Democrat-sponsored bill has stalled in committee in the Senate.
Further initiatives might include programs that incentivize small landlords to keep their rents affordable – perhaps by subsidizing the cost of maintaining older units in doubles or single-family homes. In New York City, a short-lived program called "Home for the Holidays" paid out as much as $1,800 to residents who took in homeless friends or relatives, taking strain off the larger housing system.
In the absence of more assistance, however, low- and medium-income tenants will likely face even greater strain. A recent working paper by three economists, including Lawrence Summers, a former treasury secretary, predicted that national rents will continue rising through 2023.
"If you increase rent by several hundred dollars, that's essentially an eviction," Watson said. "There's no limitation on the state, county or city level, and we're seeing the consequences of that."
Published by The Buffalo News
Related Posts