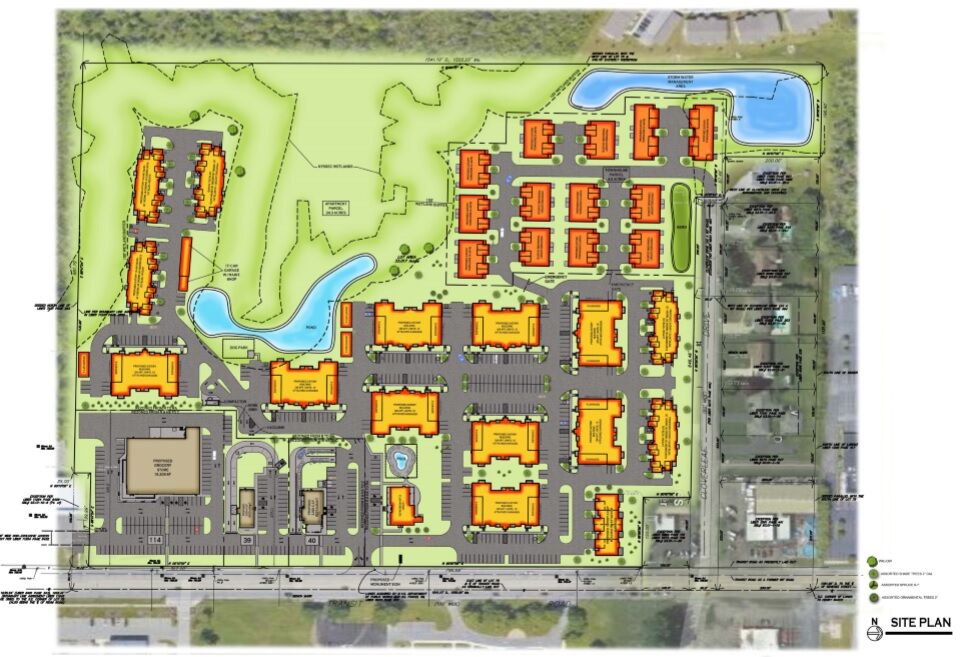 Aproposal for a sprawling mixed-use development on Transit Road in Cheektowaga needs a hefty set of zoning variances before it can go forward.
West Seneca-based Young Development wants to create a new retail and residential community on 33 acres south of Cloverleaf Drive, featuring more than 340 rental units and for-sale town homes, as well as space for shopping and eating. The company unveiled the project last fall, with hopes to be under construction by now.
The $45 million project, dubbed Midtown Apartments, would include construction of more than 30 structures on the site at 6386 Transit, with multiple apartment buildings, town house clusters, two drive-thru restaurants, a store and a community clubhouse.
The mostly agricultural site, which was owned by the Lorenz family and used by contractor Lorenz & Sons until Young bought it, is located across from a Tops Market plaza, south of Genesee Street and Salvatore's Italian Gardens.
The property consists of five parcels in all. Three in front along Transit, with about five or six acres of land, will be set aside for 24,691 square feet of commercial space in three buildings. One will be 20,000 square feet in size, targeted for a grocery store, while the other two will be smaller restaurant buildings between 2,500 and 3,000 square feet in size.
The other two larger parcels are reserved for residential use and greenspace, with 52 attached town homes and 293 apartments, as well as walking trails and a dog park.
The multifamily apartments will be located in about 15 one- to three-story buildings, ranging in size from four units to 26 apartments in each.
Tenants can choose among one-, two- and three-bedroom units, varying in size from 900 to 1,400 square feet in each. The market-rate rents will average about $1,300 for a two-bedroom apartment, with the other units falling on either side of the spectrum.
A separate clubhouse will be constructed in the middle of the community, with a pool, coffee bar, fitness center, yoga studio and an Uber waiting area. And the two-story town houses will be in the rear, toward Cloverleaf.
The town houses would be 31 feet tall, while the largest 26-unit buildings would be almost 49 feet tall. The clubhouse would be 26 feet in height, and the garage will be 17 feet.
Attorney Sean Hopkins, arguing for Young, wrote in the application the variances are needed to create and develop the five parcels, and to obtain the financing for the project. Otherwise, Young would have to replace the for-sale town houses with more apartments.
Hopkins also wrote that the project "will be an enhancement to the relevant portion of the Transit Road corridor" and "will improve the character of the neighborhood."
The proposal, which had previously been tabled by the town Zoning Board of Appeals after a public hearing, will come back for review on April 21.
Also before the ZBA, Lori and Ron Testani want to demolish the current building for Five Star Automotive – which their engineer termed "woefully inadequate" – and replace it with a larger, facility on the property.
The existing building has been in place for almost 40 years and can't "support a modern state-of-the-art automotive repair facility," wrote Michael Metzger of Metzger Civil Engineering.
Plans by Metzger call for a 6,500-square-foot car repair garage at 2804 Union Road, across from Bennett, with 10 service bays. The 0.64-acre site – a former gas station that was remediated – would also include 30 parking spaces, plus four spots for car sales display.
But zoning code requirements have changed so that the the building and pavement that would be needed "cannot be accommodated," creating "a significant problem" in the design. The state Department of Transportation has also taken more of the frontage on Union for right-of-way.
So they need eight zoning variances related to front and rear yard setback, parking and landscaping.
"The owners desire to make significant improvements and upgrades to their property to the benefit of their customers and community as a whole," Metzger wrote.
Published by The Buffalo News
Related Posts